Unleash Unprecedented Surveillance Power with HIKVISION DS-9664NI-M16 NVR
Unleash Unprecedented Surveillance Power with HIKVISION DS-9664NI-M16 NVR
Introduction: In the realm of cutting-edge video surveillance, HIKVISION continues to lead the way with its revolutionary products. Among its remarkable offerings is the HIKVISION DS-9664NI-M16, a 64-channel 3U 4K NVR that sets new benchmarks for performance, reliability, and intelligence. With its comprehensive features and seamless integration, this NVR is a testament to HIKVISION's commitment to providing state-of-the-art security solutions.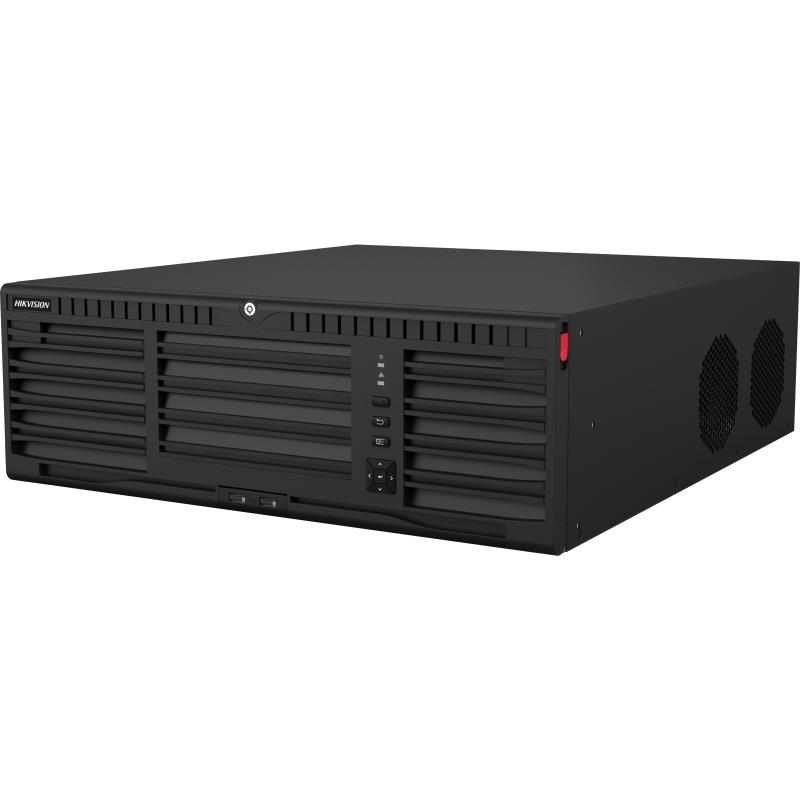 Seamless Integration and Unmatched Capacity: The HIKVISION DS-9664NI-M16 NVR supports up to 64 IP camera inputs, allowing for extensive coverage and surveillance. With decoding capacities ranging from 2 channels at 32 MP to 32 channels at 1080p, it effortlessly handles diverse camera configurations, ensuring every detail is captured with precision. Its impressive incoming and outgoing bandwidth of 400 Mbps guarantees smooth data transmission and seamless video streaming, even in demanding network conditions.
Unparalleled Flexibility and Video Outputs: Equipped with two HDMI and two VGA interfaces, the HIKVISION DS-9664NI-M16 NVR provides unmatched flexibility in video output. Users can choose between 8K resolution or dual 4K video outputs, delivering stunning visual clarity and enhancing the overall surveillance experience. Whether it's for monitoring large public areas or critical infrastructure, this NVR ensures every frame is rendered with exceptional detail and accuracy.
Advanced Streaming Technology and Special Camera Support: HIKVISION understands the importance of real-time monitoring, even in challenging network environments. The advanced streaming technology embedded in the DS-9664NI-M16 NVR enables smooth live views, providing security personnel with up-to-the-minute information. Furthermore, the NVR supports special cameras, including people counting, ANPR, and fisheye cameras. This versatility expands the scope of surveillance applications, making it ideal for retail stores, parking lots, and other high-security areas.
Reliable Data Storage and Protection: Data loss is a significant concern in any surveillance system. The HIKVISION DS-9664NI-M16 NVR addresses this with its robust storage capabilities. Supporting RAID 0, 1, 5, 6, 10, and N+M hot spare configurations, it ensures reliable data storage and effective risk mitigation. Businesses can have peace of mind knowing that their valuable video data is protected against potential loss or corruption.
HIKD: Your Essential Partner in HIKVISION Solutions: As a trusted distributor of HIKVISION products, HIKD plays a crucial role in delivering comprehensive security solutions to customers. The partnership between HIKVISION and HIKD is based on a shared commitment to excellence, innovation, and customer satisfaction. HIKD's deep expertise in HIKVISION products, combined with their dedication to providing exceptional customer support, makes them the go-to choice for businesses seeking top-tier security solutions.
Conclusion: With the HIKVISION DS-9664NI-M16 NVR, businesses can elevate their surveillance capabilities to unprecedented heights. Its expansive channel capacity, advanced streaming technology, and support for special cameras ensure comprehensive coverage and real-time monitoring. Partnered with HIKD, HIKVISION provides customers with a winning combination of cutting-edge technology and reliable support. Embrace the power of the HIKVISION DS-9664NI-M16 NVR and experience a new level of security and peace of mind.
Contact HIKD for HIKVISION NVR Solutions: Website | Email: sales@hikdistribution.com
About Author