Revolutionizing Surveillance: Introducing the HIKVISION DS-2SE4C225MWG-E/26(F0) TandemVu Panoramic & PTZ Camera
In the dynamic realm of surveillance technology, innovation knows no bounds. HIKVISION continues to lead the charge, and this time, it's with the remarkable DS-2SE4C225MWG-E/26(F0) TandemVu Panoramic & PTZ Camera. A true marvel of engineering, this cutting-edge camera is poised to reshape the landscape of surveillance with its unparalleled capabilities.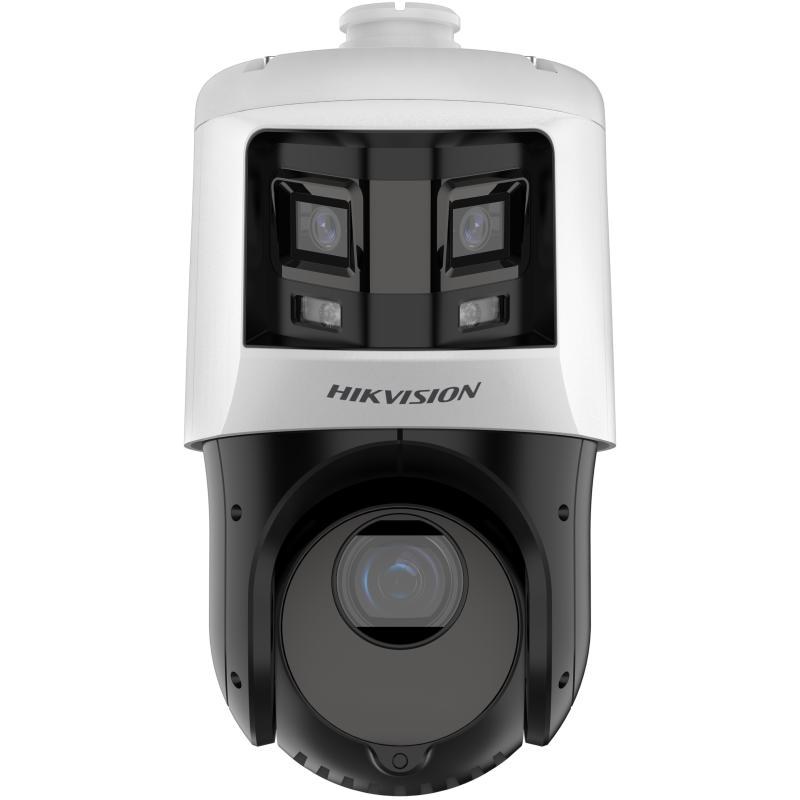 TandemVu 6+2MP 25X Colorful & IR Panoramic & PTZ Camera
Captures a large area and great details at the same time
High quality panoramic imaging with 6 MP resolution and details imaging with 2 MP
Excellent low-light performance with powered-by-DarkFighter technology and ColorVu technology
Secures an expansive area with 25× optical zoom and 16× digital zoom
Expansive night view with up to 100 m IR distance & 30 m white light
Supports 12V DC & PoE+
Focuses on human and vehicle targets classification based on deep learning
A Glimpse into Panoramic Brilliance
Imagine capturing an expansive area with breathtaking clarity, while simultaneously delving into intricate details that matter most. The DS-2SE4C225MWG-E/26(F0) achieves just that, boasting a 6 MP panoramic imaging resolution that immerses you in a world of comprehensive vigilance. Its prowess doesn't stop there – it seamlessly switches to a 2 MP detail imaging mode, ensuring that no nuance escapes its watchful eye.
Brilliance Unveiled in Low Light
Low light conditions pose no challenge for the DS-2SE4C225MWG-E/26(F0), thanks to its powered-by-DarkFighter and ColorVu technologies. These remarkable features collaborate harmoniously to deliver vivid and clear imagery even in the darkest corners. Whether it's a moonlit night or a dimly lit environment, rest assured that this camera will illuminate your surveillance goals.
Zoom into the Future
With a 25× optical zoom and 16× digital zoom, the DS-2SE4C225MWG-E/26(F0) grants you the power to secure expansive areas without compromise. Unravel every detail, zoom in on critical points, and navigate your surveillance with unprecedented precision. This camera isn't just about capturing moments; it's about crafting a narrative of security.
Night Vision Redefined
Prepare to be captivated by its expansive night view capabilities. This camera stretches its vision up to 100 meters through infrared (IR) illumination and 30 meters through white light, ensuring that darkness never hinders your surveillance objectives. The night comes alive, and so does your surveillance strategy.
Empowering Your Vision
Supporting both 12V DC and PoE+, the DS-2SE4C225MWG-E/26(F0) TandemVu Camera caters to your diverse power needs, ensuring seamless integration into your surveillance ecosystem. But its intelligence goes beyond just capturing images – it's about understanding context. Utilizing deep learning, it classifies human and vehicle targets, enhancing your ability to discern the critical from the commonplace.
Embrace the Future with HIKD
We extend our gratitude to HIKD for bringing us the DS-2SE4C225MWG-E/26(F0) TandemVu Camera – a true masterpiece in surveillance technology. For those who demand excellence, this camera is more than a tool; it's a gateway to a new era of vigilance. To experience its capabilities firsthand, we invite you to explore [www.hikdistribution.com](https://www.hikdistribution.com), the premier destination for cutting-edge surveillance solutions.
In a world where surveillance technology evolves rapidly, the DS-2SE4C225MWG-E/26(F0) stands as a testament to HIKVISION's commitment to innovation. As you delve into the realm of next-generation surveillance, let the DS-2SE4C225MWG-E/26(F0) TandemVu Camera be your guiding light, illuminating possibilities and redefining what's achievable.
*Publication City: San Francisco*
*Publication Date:7-8-2023
**Special Thanks: We extend our sincere appreciation to HIKD for introducing us to the remarkable DS-2SE4C225MWG-E/26(F0) TandemVu Panoramic & PTZ Camera. For those eager to embrace the future of surveillance, we recommend visiting [www.hikdistribution.com](https://www.hikdistribution.com) – the ultimate source for cutting-edge surveillance solutions.**
About Author