Unleashing the Power of Intelligent Surveillance with HIKVISION's iDS-9664NXI-M16/X DeepinMind NVR
Unleashing the Power of Intelligent Surveillance with HIKVISION's iDS-9664NXI-M16/X DeepinMind NVR
Introduction
In the rapidly evolving world of surveillance technology, businesses demand cutting-edge solutions that offer unmatched capabilities and advanced features. HIKVISION, in collaboration with its key partner HIKD, has unveiled the groundbreaking iDS-9664NXI-M16/X DeepinMind NVR, revolutionizing the way we perceive intelligent surveillance. With its powerful deep learning algorithms and innovative features, this 64-ch 3U 8K NVR sets new benchmarks in the industry, ensuring seamless integration and robust security for businesses worldwide.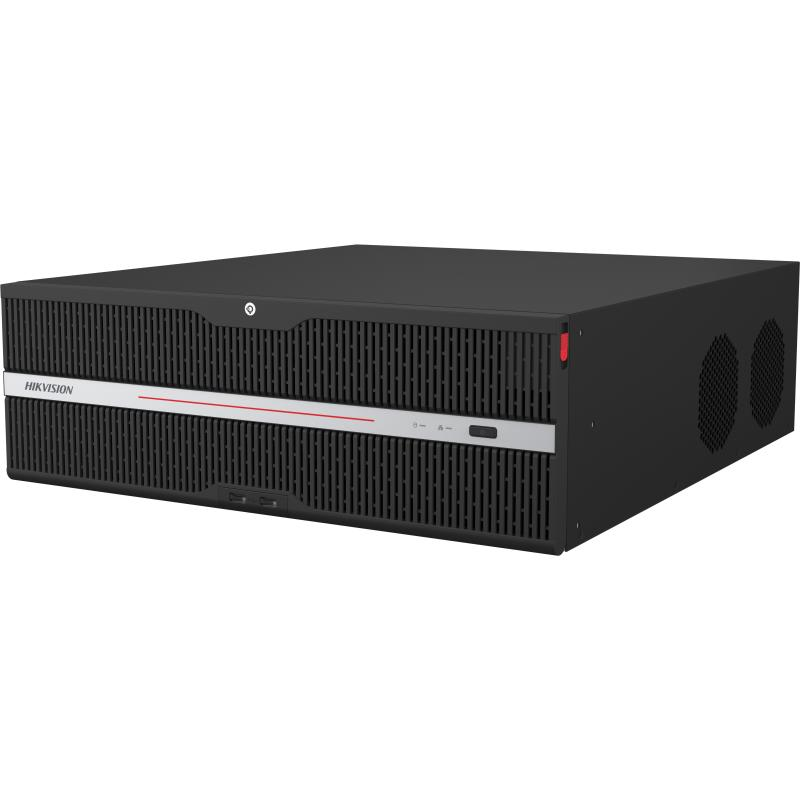 Advanced Decoding Capacity and Video Formats
The HIKVISION iDS-9664NXI-M16/X redefines the decoding capacity of NVRs, offering up to 2-ch@32 MP/2-ch@24 MP/4-ch@12 MP/8-ch@8 MP/16-ch@4 MP/32-ch@1080p decoding capabilities. This level of performance allows for crystal-clear video playback and real-time monitoring, ensuring that every detail is captured with unparalleled precision. With support for multiple video formats, including H.265+/H.265/H.264+/H.264, this NVR provides efficient video compression and storage, optimizing bandwidth and storage requirements.
Intelligent Analytics for Enhanced Security
The true power of the iDS-9664NXI-M16/X lies in its integration of deep learning algorithms, empowering businesses with intelligent analytics for advanced security measures. Leveraging the latest advancements in AI technology, this NVR can accurately analyze complex scenarios, detect anomalies, and provide real-time alerts for potential security threats. Whether it's identifying suspicious behavior, recognizing specific faces, or detecting perimeter breaches, this intelligent NVR offers an unparalleled level of security and situational awareness.
Facial Recognition and Perimeter Protection
With up to 16-ch facial recognition for video stream and an astounding 48-ch facial recognition for face pictures, the iDS-9664NXI-M16/X enables businesses to create a secure and controlled environment. Leveraging its advanced facial recognition capabilities, organizations can manage access control efficiently, preventing unauthorized access and ensuring only authorized personnel can enter designated areas. Additionally, with up to 24-ch perimeter protection, this NVR accurately detects and alerts users about potential intrusions, minimizing false alarms and streamlining security operations.
Seamless Integration and Scalability
HIKD, a prominent partner of HIKVISION, plays a crucial role in ensuring the seamless integration of the iDS-9664NXI-M16/X NVR into various surveillance setups. Their expertise and commitment to customer satisfaction guarantee businesses a hassle-free experience, from installation to ongoing support. Furthermore, with the ability to connect up to 64-ch IP cameras, this NVR offers unparalleled scalability, accommodating the expanding surveillance needs of growing businesses.
Conclusion
In conclusion, the HIKVISION iDS-9664NXI-M16/X DeepinMind NVR heralds a new era of intelligent surveillance technology. With its advanced decoding capacity, intelligent analytics, facial recognition, and perimeter protection features, this NVR delivers a level of security that surpasses traditional surveillance systems. Partnered with HIKD, HIKVISION ensures that businesses have access to the most innovative and transformative surveillance solutions available. Embrace the future of intelligent surveillance with the iDS-9664NXI-M16/X NVR and elevate your security to unprecedented heights. To learn more, visit HIKD's website at https://www.hikdistribution.com.
About Author