HIKVISION DS-7616NI-K2/16P Elevate Your Surveillance Game
HIKVISION DS-7616NI-K2/16P Elevate Your Surveillance Game
Introduction: In today's fast-paced world, security is of paramount importance. Whether you're a business owner or a homeowner, keeping your premises secure and protected is crucial. That's why I'm excited to introduce you to the
HIKVISION DS-7616NI-K2/16P
16-ch 1U 16 PoE 4K NVR – a cutting-edge surveillance solution that combines advanced technology with ease of use.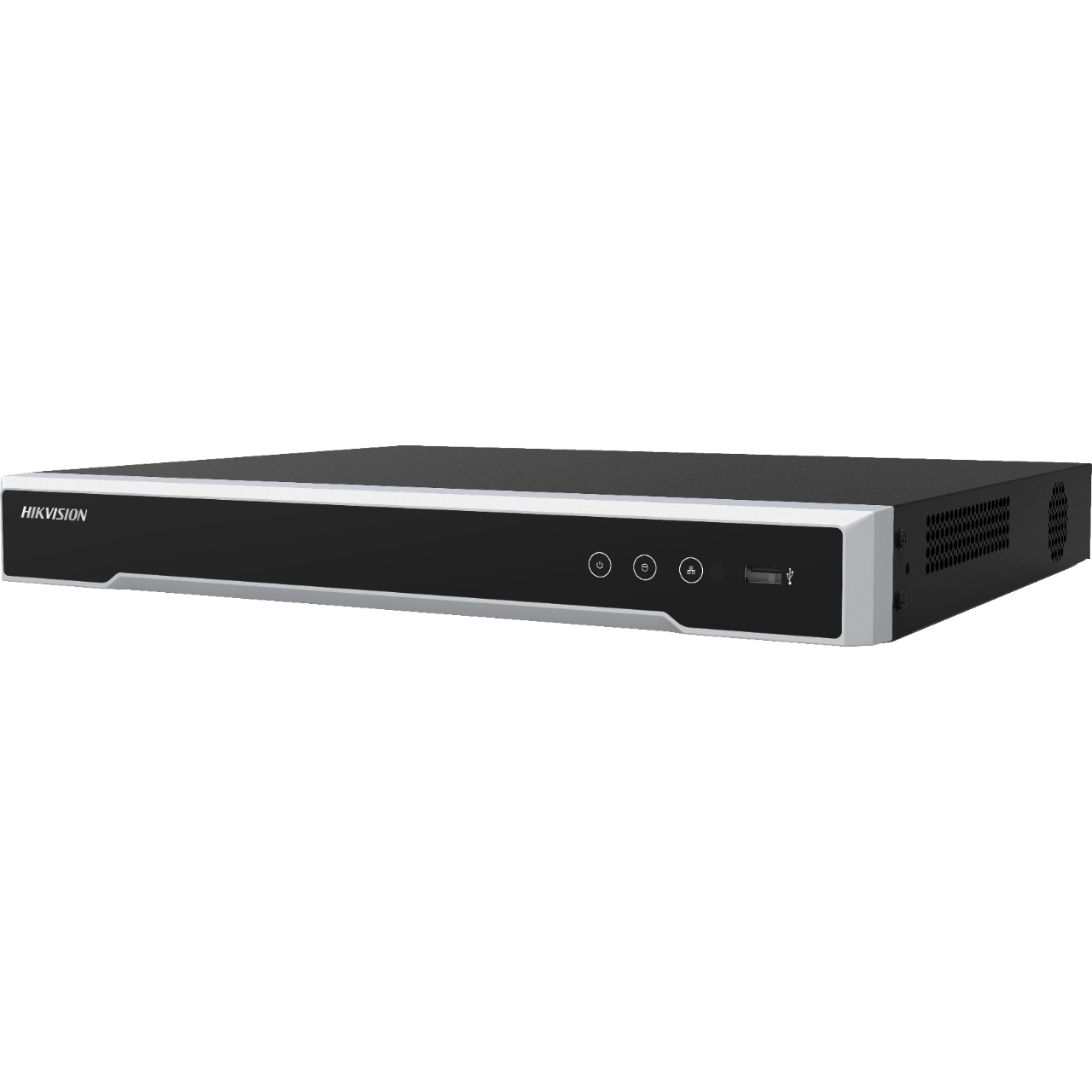 Stay Ahead of the Game: With up to 16-ch IP camera inputs and support for H.265+/H.265/H.264+/H.264 video formats, the DS-7616NI-K2/16P NVR ensures exceptional video quality and efficient storage utilization. This state-of-the-art device allows you to decode up to 2-ch@8 MP or 4-ch@4 MP or 8-ch@1080p, offering unparalleled clarity and detail in your footage.
Seamless Integration and Flexibility: The DS-7616NI-K2/16P NVR comes equipped with 1 HDMI and 1 VGA interfaces, both supporting independent video output. This means you can connect your surveillance system to multiple monitors or displays, giving you complete control and visibility. With its plug-and-play functionality, setting up the NVR is a breeze, and it seamlessly integrates with HIKVISION IP cameras.
Unmatched Storage Capacity: This HIKVISION NVR boasts 2 SATA interfaces that allow for HDD connection, with each HDD supporting up to 10 TB capacity. This means you can store a vast amount of video footage without worrying about running out of storage space. With up to 160 Mbps incoming bandwidth, you can rest assured that your surveillance system can handle high-resolution video streams.
Power over Ethernet (PoE) Simplified: One of the standout features of the DS-7616NI-K2/16P NVR is its 16 power over Ethernet (PoE) interfaces. This eliminates the need for additional power cables, as the NVR can supply power directly to the connected IP cameras. This not only reduces clutter but also simplifies installation and maintenance, saving you time and effort.
HIKD: Your Trusted Partner: As an important partner of HIKVISION, HIKD ensures access to a wide range of innovative products at competitive prices. With their professional service team, they provide exceptional customer support, assisting businesses in selecting the right surveillance solutions and maximizing their investment in video surveillance technology.
Conclusion: The HIKVISION DS-7616NI-K2/16P 16-ch 1U 16 PoE 4K NVR is a game-changer in the world of surveillance. Its advanced features, including high-resolution decoding, flexible video output, ample storage capacity, and convenient PoE interfaces, make it a top choice for businesses and homeowners alike. Partner with HIKD, and experience unmatched security and peace of mind.
Visit HIKD's website at https://www.hikdistribution.com to explore their comprehensive range of HIKVISION video surveillance products. Trust HIKD to elevate your security to new heights with the DS-7616NI-K2/16P NVR.
About Author