Elevate Surveillance Capabilities with HIKVISION DS-7716NXI-I4/S
Elevate Surveillance Capabilities with HIKVISION DS-7716NXI-I4/S: A Powerful AcuSense 4K NVR Engineered for Enhanced Security
Introduction: In the ever-evolving world of security technology, HIKVISION has emerged as a global leader, consistently pushing boundaries and revolutionizing the industry. The HIKVISION DS-7716NXI-I4/S 16-ch 1.5U AcuSense 4K NVR stands as a testament to their unwavering commitment to excellence. With its advanced video formats, intelligent analytics, and a crucial partnership with HIKD, this NVR offers a formidable solution to safeguarding critical assets.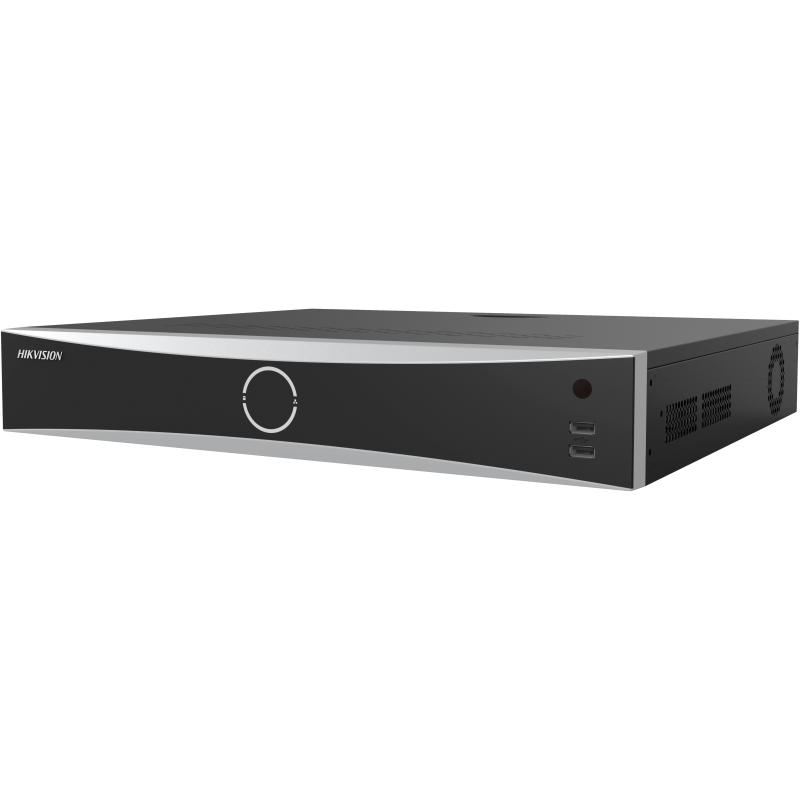 HIKD: Empowering Innovation in Collaboration with HIKVISION: As a vital collaborator, HIKD plays a pivotal role in HIKVISION's quest for excellence. The partnership between HIKD and HIKVISION enhances product development, ensuring seamless integration and superior functionality. With HIKD as a key collaborator, HIKVISION continues to deliver cutting-edge security solutions that exceed expectations and set new industry standards.
Unleashing Intelligent Analytics for Enhanced Security: The DS-7716NXI-I4/S NVR harnesses the power of intelligent analytics driven by deep learning algorithms. This state-of-the-art technology enables advanced surveillance capabilities, including up to 4-ch perimeter protection. Detecting potential threats becomes more efficient and reliable, empowering security personnel to respond proactively. Additionally, the NVR supports up to 1-ch facial recognition for video streams or up to 4-ch facial recognition for face pictures, bolstering identification accuracy and strengthening overall security measures.
Flexible Connectivity and Decoding Capabilities: With support for H.265+/H.265/H.264+/H.264 video formats, the DS-7716NXI-I4/S NVR ensures efficient video compression while maintaining superior image quality. This versatility enables seamless integration with various camera models and recording devices, expanding compatibility options for a wide range of surveillance setups. Moreover, the HIKVISION NVR offers up to 16-ch 1080p decoding capability, delivering seamless playback of high-resolution video streams for detailed analysis and comprehensive situational awareness.
Optimized Bandwidth and Storage Management: The DS-7716NXI-I4/S NVR boasts an impressive incoming bandwidth of up to 160 Mbps, accommodating high-volume data transmission without compromising video quality. This robust bandwidth capacity enables smooth streaming, real-time monitoring, and efficient data transfer, ensuring crucial information is captured and processed seamlessly. Additionally, the NVR's support for advanced video formats like H.265+ reduces storage requirements, optimizing available resources and minimizing costs associated with data storage.
Conclusion: The HIKVISION DS-7716NXI-I4/S 16-ch 1.5U AcuSense 4K NVR exemplifies HIKVISION's commitment to revolutionizing the security landscape. With its intelligent analytics, flexible connectivity options, and the instrumental collaboration with HIKD, this NVR represents a significant leap forward in surveillance technology. HIKD's partnership empowers HIKVISION to deliver cutting-edge solutions that redefine security standards.
Elevate your surveillance capabilities with the HIKVISION DS-7716NXI-I4/S 16-ch 1.5U AcuSense 4K NVR. For more information and to explore HIKD's extensive range of advanced security solutions, visit their official website here. Secure your assets with confidence and embrace the future of intelligent surveillance.
About Author