Revolutionize Your Surveillance with HIKVISION DS-7732NXI-K4/16P 32-ch 1.5U 16 POE K Series AcuSense 4K NVR
Revolutionize Your Surveillance with HIKVISION DS-7732NXI-K4/16P 32-ch 1.5U 16 POE K Series AcuSense 4K NVR
Introduction:
Welcome to the future of surveillance, where HIKVISION and their esteemed partner HIKD proudly present the DS-7732NXI-K4/16P 32-ch 1.5U 16 POE K Series AcuSense 4K NVR. Embrace cutting-edge technology and unrivaled performance as we delve into the remarkable features of this NVR. Experience a new level of security and efficiency that surpasses all expectations.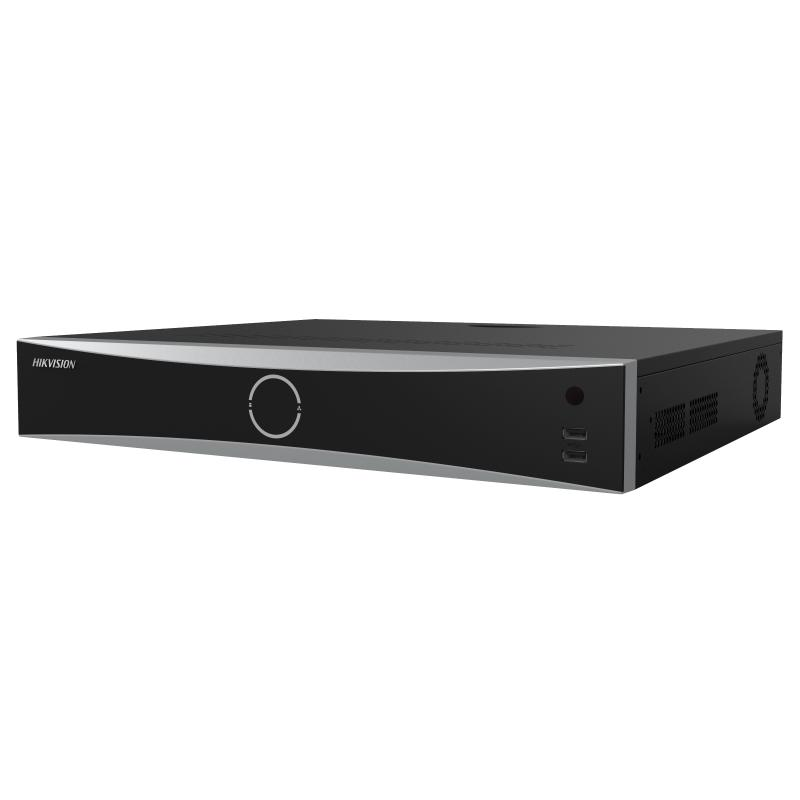 Superior Camera Integration and Power Over Ethernet:
With support for up to 32-ch IP camera inputs, the HIKVISION DS-7732NXI-K4/16P NVR allows you to build a comprehensive surveillance system tailored to your needs. The plug & play functionality with 16 power-over-Ethernet (PoE) interfaces ensures effortless camera integration, eliminating the complexities of separate power sources. Enjoy seamless connectivity and simplified installation with this remarkable feature.
Uncompromised Video Compression Technology:
The DS-7732NXI-K4/16P NVR supports a variety of video formats, including H.265+, H.265, H.264+, and H.264. These advanced compression technologies deliver superior video quality while reducing bandwidth and storage requirements. Say goodbye to compromised video performance and embrace crystal-clear imagery without compromising your storage capacity.
Unleash the Power of High-Resolution Decoding:
Experience the true potential of your surveillance footage with the DS-7732NXI-K4/16P NVR's impressive decoding capacity. Whether you require 2-ch@12 MP, 3-ch@8 MP, 6-ch@4 MP, or 12-ch@1080p decoding, this NVR handles it all with ease. Immerse yourself in detailed, high-resolution video playback and uncover crucial information with unmatched clarity.
Unparalleled Bandwidth for Uninterrupted Surveillance:
With an incoming bandwidth of up to 256 Mbps, the DS-7732NXI-K4/16P NVR ensures seamless video streaming and recording. Whether you have a high camera count or demanding surveillance scenarios, this NVR guarantees uninterrupted operation, providing you with reliable and consistent video feeds.
AcuSense Technology: Minimize Effort, Maximize Security:
Embedded with Hikvision AcuSense technology, the DS-7732NXI-K4/16P NVR takes your security to the next level. By intelligently analyzing human and vehicle behaviors, it dramatically reduces false alarms triggered by irrelevant sources. This powerful feature saves valuable time, enhances efficiency, and minimizes security costs, allowing you to focus on what truly matters.
HIKD: An Essential Collaborator in HIKVISION Solutions:
As a pivotal partner of HIKVISION, HIKD plays a crucial role in delivering innovative surveillance solutions. Their unwavering commitment to excellence, combined with HIKVISION's cutting-edge technology, ensures you receive unparalleled support and top-of-the-line products. Trust in the collaboration between HIKD and HIKVISION to provide you with superior surveillance solutions tailored to your unique needs.
Conclusion:
Elevate your surveillance capabilities with the DS-7732NXI-K4/16P 32-ch 1.5U 16 POE K Series AcuSense 4K NVR, a true testament to HIKVISION's and HIKD's commitment to technological advancement. Experience seamless camera integration, unmatched video compression, high-resolution decoding, and unrivaled bandwidth for uninterrupted surveillance. With AcuSense technology, you can maximize security while minimizing effort and costs. Trust in the expertise of HIKD,
a valued collaborator of HIKVISION, to deliver innovative solutions that redefine the future of surveillance. Embrace the power of the DS-7732NXI-K4/16P NVR and unlock a new era of intelligent and efficient security.
About Author