Elevating Surveillance to a New Spectrum: DS-2CD2767G2T-LZS and DS-2CD2787G2T-LZS Varifocal Dome Cameras
Elevating Surveillance to a New Spectrum: DS-2CD2767G2T-LZS and DS-2CD2787G2T-LZS Varifocal Dome Cameras.Breaking Boundaries with DS-2CD2767G2T-LZS and DS-2CD2787G2T-LZS Varifocal Dome Cameras
In the ever-evolving world of surveillance technology, the DS-2CD2767G2T-LZS and DS-2CD2787G2T-LZS Varifocal Dome Cameras represent a leap forward, promising to redefine how we safeguard our environments. This partnership between HIKVISION NETWORK CAMERAS and the renowned HIKD is a testament to the future of security.
Precision Imagery: 6 MP and 8 MP Resolutions
Embark on a journey of precision imagery with the HIKVISION DS-2CD2767G2T-LZS and DS-2CD2787G2T-LZS Varifocal Dome Cameras, offering 6 MP and 8 MP resolutions respectively. Every detail is captured with the utmost clarity, ensuring comprehensive surveillance coverage.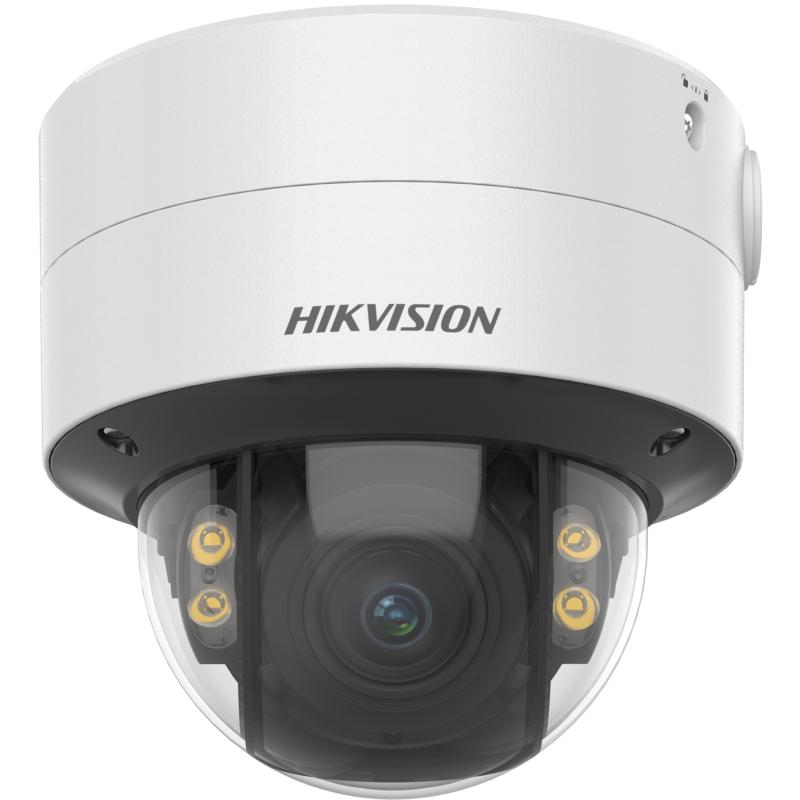 Lens Flexibility: Motorized Varifocal Lens
Enjoy ease of installation and monitoring with the motorized varifocal lens. This feature allows for seamless adjustment, providing the flexibility needed to adapt to varying surveillance scenarios.
Colorful 24/7 Imaging: ColorVu Technology
Redefine your perception of night surveillance with ColorVu technology. These cameras provide 24/7 colorful imaging, ensuring that even in low-light conditions, crucial details are never lost.
Mastering Illumination: 130 dB WDR Technology
Master challenging lighting conditions with the support of 130 dB WDR technology. The DS-2CD2767G2T-LZS and HIKVISION DS-2CD2787G2T-LZS Varifocal Dome Cameras deliver impeccable image quality, even amidst intense backlight conditions.
Efficiency Unveiled: H.265+ Compression
Experience the synergy of efficiency and excellence through H.265+ compression technology. These cameras optimize storage space while upholding the integrity of captured footage.
Precision Surveillance: Human and Vehicle Classification
Immerse yourself in the realm of precision surveillance, powered by deep learning-based human and vehicle classification. Stay ahead of potential threats with accurate identification and classification capabilities.
Rugged and Resilient: IP67 and IK10 Ratings
These cameras are built to endure the harshest environments, boasting IP67 water and dust resistance, as well as IK10 vandal resistance. Your surveillance investment is safeguarded against the elements.
A Partnership of Excellence: HIKD and HIKVISION
The collaboration between HIKD and HIKVISION presents you with the DS-2CD2767G2T-LZS and DS-2CD2787G2T-LZS Varifocal Dome Cameras. This partnership underscores HIKD's pivotal role as a distributor of cutting-edge surveillance solutions.
Embrace the Future of Security
Step confidently into the future of security with the DS-2CD2767G2T-LZS and DS-2CD2787G2T-LZS Varifocal Dome Cameras. Experience the convergence of advanced features, unparalleled performance, and the synergistic partnership between HIKD and HIKVISION. Revolutionize your surveillance capabilities and secure your world with precision and confidence.
About Author